ICRA Systems
Integrated Cloud Restructuring Application
Support restructurings with a powerful, efficient tool.
ICRA Systems is an automated system to efficiently implement WHOA processes, private/minor creditors' agreements, liquidation agreements, moratorium agreements and bankruptcy settlements. Customers experience our software as reliable, (cost) efficient, effective and with an easy learning curve for new users.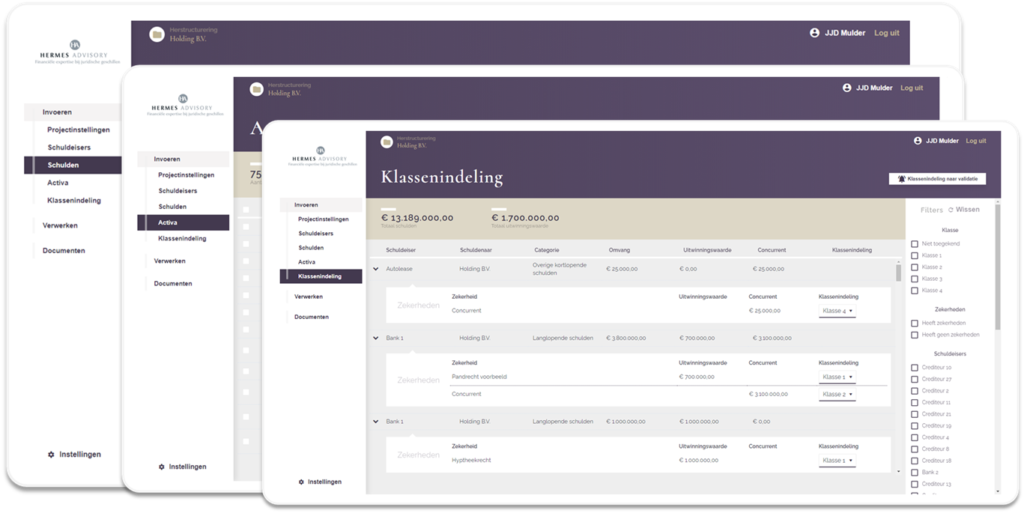 How ICRA Systems can help advisors and businesses
When preparing and executing restructurings, advisors, lawyers, trustees and companies, by necessity, often spend a lot of time on routine work. Communication with stakeholders plays a crucial role in this and is time-consuming. This leads to unnecessarily high costs for companies in (approaching) insolvency. Advisors should rather spend this time on high-quality advisory work in the interest of their client.
Using ICRA Systems, advisors and companies can automate the standard work in a restructuring process. For example, consider going through all the legal steps for reaching a creditors' agreement, such as:
Informing creditors on the restructering process
Validating claims
Making a class division
Sending standard letters to different classes of creditors
Presenting a draft agreement to creditors for a vote
Preparing a voting report for the court
Forming a file in accordance with legal requirements
The structure of ICRA Systems makes it clear to both advisors and the company when and which step must be taken, what the (legal) timelines per step are and that no steps are forgotten.
Because of the importance of solid implementation of restructuring processes for the Dutch economy, the ICRA Systems application was developed in consultation with the Ministry of Economic Affairs and Climate in the Netherlands. However, while the restructuring laws are based on an European guideline, the application is usable in all EUR jurisdictions as well as the UK scheme of arrangements and the German STARUG.
For whom is ICRA Systems developed??
ICRA Systems has been developed for advisors involved in restructuring processes, including insolvency lawyers, accountants, tax specialists, business economic advisors and industry associations with an advisory branch.
By automating administrative actions and routine tasks, they can spend more time on essential substantive advice and high-quality advisory work for their clients. For companies in (imminent) insolvency, this delivers significant cost benefits at this crucial stage.
Firms and advisors can customize the entire ICRA Systems environment to match the corporate identity of their firm or office, including colors and logos. The entire application is available in different languages so that international creditors and stakeholders can also be informed.
ICRA Systems – far-reaching automation of restructuring processes
How does the ICRA Systems cloud application work?
Classification

You can classify creditors into different classes. You can use the impact analysis function to compare the effect of the chosen classification on the recovery rate of each creditor in a bankruptcy situation and in a reorganization in which the agreement is reached. In addition, you can see how important each creditor is per class so that you can estimate which classes will agree and which creditors are important to reach an agreement in each settlement.
Valuation and capital structure
With the valuation (of both the liquidation value and the reorganization value), the application makes it possible to provide direct insight into the consequences of the proposed composition for a party involved. The new capital structure can therefore be introduced, whereby the conditions of each new capital instrument can be inserted at a detailed level. The capital structure is then tested for stability using the debt analytics module.
Consequences agreement

The application provides insight into the consequences of the agreement for each individual capital provider. This can be done with the calculation of the different combinations per class, but also with the final agreement.
Reports
The legal toolbox contains all necessary legal template documents to execute a restructering process. These templates will be automatically completed (if possible) by the application which leads to significant cost reductions.
Creditors portal
Any creditor or stakeholder can track their claim in the creditor portal. Here, creditors can verify their claim, communicate with the restructuring expert, consultant or trustee about the size of their claim and communicate their collateral position, and see which class their claim is assigned to.

Due diligence room
Creditors portal including due diligence room for uniform information provision. Each individual creditor can track their claim, validate it, view classifications of debt and therefore can vote on the agreement.
Contact us for a obligation free insight into ICRA Systems